A native of Michigan, Craig Morton became a follower of Jesus Christ in high school while attending a Salvation Army church. He graduated from Dartmouth College in 1989, majoring in Religion. Craig had success playing football at Dartmouth and went on to play professionally after graduation. He spent several years in Information Systems Management at Dartmouth-Hitchcock Medical Center before becoming a full-time pastor. He holds a Master of Divinity degree from Regent University.
Karen Morton became a follower of Jesus Christ while attending a Presbyterian church during high school. Karen attended Dartmouth College and graduated in 1988, majoring in Romance Languages. She is currently the Executive Director of Good Beginnings, a local non-profit that supports new families.
Craig and Karen were married in 1989 and reside in Lebanon, New Hampshire. They have four grown children. Their passion is to pastor a vibrant community of people who love God and want to grow in their spiritual life.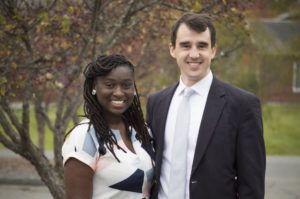 After growing up attending Wellspring, Tim went on to Hamilton College, double majoring in Hispanic Studies and Creative Writing, and living in Spain and traveling for one year. After graduation he taught, mentored, and coached for seven years at Trinity-Pawling School, an Episcopal boys boarding high school in Pawling, New York, as well as singing in a choir and being involved at his local church and bible studies. Through that time, he became increasingly aware of a call to ministry. He transitioned out of teaching to become a full-time pastor in 2017. He married Phanuelle in September of 2018.
Phanuelle grew up in Haiti, but moved to Minnesota as a child. After college in Michigan she became interested in immigration work and spent four years in Washington, D.C. before moving to the Upper Valley to attend Vermont Law School, from which she earned her J.D. in May 2018.
Phanuelle and Tim live in Lebanon, NH. They love to travel, read, and host dinners for friends and family. They are often out walking, listening to music, browsing in new places, or spending time with friends.
David Gilbert became a follower of Jesus Christ in 1986 while visiting a small, rural church. God showed himself real to David in a wonderful way, and neither one has turned back since. A secular touring musician for many years, David felt called early to be part of worship, getting his start in many southern churches throughout Virginia and North Carolina. David graduated in 1989 from Blue Ridge Bible College with an Associate Degree in Theological Studies.
David married Natalie Gilbert in 1989, a native of New Hampshire who became a follower of Jesus Christ in her early years. David and Natalie met at Blue Ridge Bible College, founded by her Grandfather, Joseph Crandall. After their marriage they moved to New Hampshire and got involved in worship and prayer at WWC for the next nine years. They moved away, and then back to live in West Lebanon, New Hampshire. As Worship Pastor and Intercessor Prayer Leader, David and Natalie have a desire to bring people to a vibrant place of worship and prayer that will transform people's lives.
In addition to his part-time work at Wellspring, David currently works full-time managing two departments at Dartmouth-Hitchcock Medical Center. He and Natalie have five children and two grandchildren.
Youth Coordinator & Ministry Assistant
Sitinna was born in Ethiopia, Africa and was adopted at four years old. Wellspring has been her home church since 2012 and she began working there in 2017. Before working at Wellspring she interned for a non-profit organization for youth in Colorado, co-led a missions trip to Europe, and took multiple missions trips to Central America. Sitinna is pursuing a dual degree in Youth Ministry and Psychology at Liberty University. When Sitinna isn't working or studying she loves to go on road trips, grab coffee with friends, and meet new people!
Youth Coordinator & Facilities Manager
Zachariah Shappy comes to Wellspring with a wealth of experience from many professional environments since graduating high school in 2012. After spending time at an insurance company, bank, and even in sales, Zach currently works full-time as the Youth Coordinator & Ministry Assistant at Wellspring. Zachariah is a very outgoing person that loves meeting and getting to know new people. He loves to spend time in nature fishing, hiking, or just being in the woods and spending time with God.
Leah works part-time at Wellspring as the Office Administrator. Leah comes with extensive professional experience in Retail Management and Customer Service. Her work overseeing multiple volunteer-based organizations while managing a busy family life make her a natural fit for church administration. Leah lives in Vermont with her husband, John, their teenage twins, and their beloved dachshund, Stretch. With her precious free time she looks for a patch of sun, a strong cup of a coffee, and a thought provoking novel.
Director of Community & Leadership Development


Born and raised in Germany as a pastor's daughter, Annette gave her life to Christ at the age of 13. She attended college and completed a graduate degree in theology. She also obtained a certificate in Human Resource and Organizational Development. Annette moved on to pursue a career in international higher education, working for a business school in Germany. She traveled to many countries, recruited students, developed and lead diverse partnerships, people, and programs. Annette also acquired an MBA degree in 2014. In 2018, she left the higher education field to follow her call of serving God in the church. She is currently taking classes in Biblical Counseling through CCEF.
Annette has a passion for people and the community of believers. Being able to work for the local church to bring people together and alongside one another is a dream come true for her.
Annette is married to Jimmy Horne, a retired U.S. Naval officer.
Children's Ministry Coordinator


Jeanée grew up in Illinois, and earned her degrees in Elementary Education, Bible, and TESOL at Illinois State University and Lincoln Christian University, she spent a few years teaching and ministering in Bulgaria. She returned to the states to complete her M.A. in Intercultural Studies at Wheaton College. Jeanée and her family moved to the Upper Valley in 2014. She has always had a passion for working with children and youth and is grateful for the opportunity to share God's love with the children at Wellspring. Jeanée is married to Chris and stays busy at home training and teaching their 3 kids.
Dan loves to create and perform. He works full time in the printing industry, has a passion for video and has a side videography business as well. He grew up within Wellspring Worship Center and loves the community and culture of the church. Dan loves to laugh and to make others laugh. His role at Wellspring is to develop the technical aspects of the ministry from Audio to Visual. He is married and lives in Plainfield, NH.
Chris & Charlotte Hultquist
Wellspring Ministry Training Center Coordinators
Chris and Charlotte attended Nyack College, where Chris earned a degree in Pastoral Ministries and Psychology, and Charlotte in Psychology, then Master's degrees in Counseling. They were transformed by a revival during college, which prompted them to use their counseling skills for ministry work. They run the Wellspring Ministry Training Center, where they can live out their passion, bringing the church into healing and freedom. Chris is the director of a non-profit mentoring organization.